DAYLIGHTING RETROFIT FOR CLIMATE CHANGE ON URBAN HOUSING IN MALAYSIA
Optimizing Light Shelves Design as Retrofitting Measures for Balancing Daylight, Thermal Comfort and Energy Consumption
Energy conservation and sustainability in the building industry have been getting heighten awareness in the last few years. A gradual shift is visible towards constructing net-zero energy buildings (NZEBs) as a promising solution to reduce building energy consumption and improve sustainability. The adoption of NZEBs concept become more significant after European Union Parliament is actively promoting the improvement of energy efficiency and reduction in energy consumption by setting regulations for all new buildings to be "nearly Zero-Energy" Buildings by 2020 (Abdellah, et. al., 2018). In the context of Malaysia's construction industry, the Malaysian government has already moved progressively towards energy conservation and environmental sustainability through Construction Industry Transformation Programme (CITP) 2016-2020. Malaysia is targeting to become a carbon-neutral country by 2050 through the provision of carbon reduction and environmental sustainability rating tools for new buildings (CIDB, 2015).
In addition to the design and construction of new NZEBs, it is also equally important to finding effective strategies to retrofit existing ones, as most existing buildings in Malaysia need refurbishment. The main concern will be retrofitting existing urban terraced housing because it constitutes the largest type of houses built in Malaysia with 41% or 1,923,802 units of the national existing housing stock (Abu Bakar et al., 2015). Apart from that, buildings – including net-zero energy buildings – globally are often designed using historical climate data. It is necessary to track the performance of the installed retrofit measures to make sure that the building remains at the net-zero energy level and comfort for future climate change. There is currently an undefined research area in the literature on the direct impacts of climate change on visual comfort and daylight-related performance. Because of this, the true performance of shading devices being studied for their visual comfort and daylight availability is uncertain under changing climate scenarios. Hence, the aim of this research is to investigate optimize daylighting design as a daylight retrofit measure that is robust against changing climate scenarios and at the same time fulfils multi-objective goals such as daylight, thermal comfort, and energy consumption.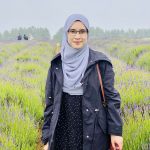 Nur Nasuha Abd Salam
(she/her)
Nur Nasuha Abd Salam is a Ph.D. candidate at Cardiff University. Previously, Nasuha worked as an academician at Universiti Tun Hussein Onn Malaysia, one of the public universities in Malaysia. She graduated from the University of New South Wales, Sydney, Australia in Master of Architecture and Bachelor of Architectural Studies.