FORAGER'S GATHERING
AWARD
Climate Change Award - NOMINEE
- Balaam Murphy
LOCATION
Llandeilo, Carmarthenshire, Wales, United Kingdom
Reconnecting with Nature, Forming Community Relationships and Preserving Native Wildlife.
The food production industry is detrimental to the environment. Significantly, through food miles, land changing, waste and packaging. Foraging is an alternative to the standard supermarket and could combat the environmental issues of the food production industry. Foraging also has the possibility to improve community relationships through social gathering. UK landscapes have many foraging opportunities in woodland, meadows and, significantly, the hedgerows. However, legislation and bylaws omit access to land. Most would not replace a quick stop at the local supermarket with a 3 hour walk which does not guarantee the availability of specific foods.
Foragers Gathering responds to these issues by providing a designated site for foraging which will make foraging more time-efficient, social and give people a greater awareness of where their food comes from. It will also educate on what foods are safe to forage giving the community skills which can be transferred off site.
Conscious decisions where made in regard to the landscaping and materiality of the project. Using a limited material palette of timber, hempcrete and straw where possible. These materials are significant as they all store carbon. The choice to have a large meadow with most interventions raised off the ground allows for carbon sequestration. The site itself is a carbon store which combats the emissions of the food production industry
This project reconnects the public to nature by encouraging interactions through leisure activities and observation. It repairs rural relationships by supporting community gathering through community ownership. It also works to preserve Britain's native wildlife as a result of reintroducing important, lost habitats which will be cared for and maintained. A collection of architectural interventions conscientiously have been designed to benefit the environment and educate the public on the importance of nature in our daily lives. The hedgerow is at the heart of the project, guiding visitors to a more conscious and sustainable life ahead.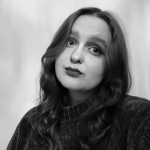 Rachel Livesey
(she/her)
Hi! My name is Rachel. I have recently graduated the Welsh School of Architecture with First Class Honours BSc. I am a creative who embraces new technologies and techniques to explore graphic communication. Interested in investigating the limits of the built environment, whilst championing the importance of social, historical and natural contexts. I am excited to continue to explore the possibilities of architecture and further my skills. Please feel free to contact me via e-mail or linked social media with any queries.
liveseyrs@gmail.com
https://issuu.com/rachel_livesey/docs/rachel_livesey_architecture_portfolio