FRAGMENTS & FRAMEWORKS
LOCATION
Roath Basin, Port of Cardiff, Butetown, Cardiff, Wales, CF, United Kingdom
An Investigation into the Contamination of post-Industrial Landscapes.
The project seeks to act as a case study using an existing site of contaminated land as an example of how architectural intervention and the integration of complex land engineering can rewild and diversify redundant post-Industrial landscapes.
By using the regeneration of ground contamination as a set of constraints and by utilising the strategic application of bio-remediation, windrow piling, and bio-venting, the land at Roath basin can teach us how to widely apply the application to the ever-growing number of contaminated brownfield sites in the UK.
Undertaken for the Primer project of Local Adaptation Unit was a process of In-depth research and analysis of naturally occurring phenomena. This in depth study focused on the transitional nature of the direct sunlight and the frameworks inside and outside the room which allowed its final resting place to be my spare room. 
I discovered through this process that the light volumes were embedded with underlying information,  not about the light itself but about the room inside and the intersecting roofs outside the window. The fragmented pieces were the pieces I could measure, and they revealed the nature of the wider array of connecting frameworks outside the window.
Anthropogenic interaction with the landscape can be said to reflect this unique concept. The contamination in the ground are the fragmented pieces of our Industrial heritage, able for us to measure and analyse, telling us about the winder array of social and political networks, the history and intervention causing the evidence of these faults in the ground.
Using this as a problem to solve, the land at Roath basin serves to act as a demonstration for how cleaning the soil, re-diversifying the land, and integrating environmentally conscious architecture is essential to the sustainable use of our finite landscapes.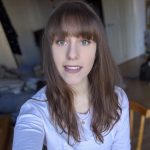 Madeline Howell
I just finished my final year Architecture Masters at Cardiff University and I currently live in Leeds.