PEMBROKE FERRY LIVING ARCHIVE
AWARD
History and Heritage Award - NOMINEE
- Kate Darby
LOCATION
Pembroke Ferry, Pembroke Dock, Pembrokeshire, Wales, SA72 6FD, United Kingdom
An architectural project in the sharing and endurance of personal histories, and the memory of place.
The project is for the creation of a living archive with the aim to collect and archive the stories of Pembroke Dock and Pembroke Ferry's past and present life through the eyes of their residents. The architecture is intended to act as a facet of this archive in its reflection on the site and its history as well as its role as a curational tool. The 'Living' aspect of the archive is achieved through communal sharing of stories as well as creative responses to these stories, exemplifying the continued recognition and vitality of these histories within the current ever changing community.
The archives design is tuned into its environment and unique location through its  interaction with the sea wall, its reflection of the Cleddau Bridge architecture in the building structure, and its cohesive relationship with the village layout and vernacular architecture. Additionally, variations in wall thickness reflect the contrasting weight of the houses compared to the sea wall and the bridge, and contribute to the curation of spaces through alcoves and inlaid furnishings.
A key moment in the project is the point of contact between the bridge pillar and the building; it is situated so as to be experienced both internally and externally within the scheme. This is intended to create contrasting experiences of the pillar and the spaces around it, with the interior space framing the pillar as a distinct 'artefact' separate from the bridge and the external experience emphasising the impact of the bridge on the atmosphere of the village as well as its enormity as a structure. At the waterfront, the design continues to respond to the site condition in both its descending landscaping, which highlights the movement of the tides, and the key view across the water on the path of the ancient ferry crossing which grounds the project in the community's medieval origins.
As such, the architecture of the living archive renders the scheme thoroughly embedded in the site and allows it to act as a tool to frame and 'archive' features of the site history and environment central to the Pembroke Ferry community. The focus on individual stories and human memories gives  the power of community identity back to the people and highlights the central principle of the archive; 'everybody has a story to tell.'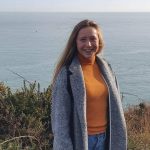 Harriet Johnson
(she/her)
Harrietej5@gmail.com