THE LIBRARY OF BABEL
AWARD
History and Heritage Award - NOMINEE
- Kate Darby
LOCATION
Old Admiralty Building, Covent Garden, London, Westminster, England, SW1A 2BU, United Kingdom
The Permanence of History in the City of Westminster. How can the existing language of Westminster be shaped by new, meaningful urban dialogues?
This thesis investigates what memory, identity and selectiveness mean to the architect. It challenges notions of conservation and heritage, as it rediscovers two forgotten monuments and their memory.
The language of a city includes the totality of what exists within it. The tangible is perceived alongside the intangible elements of the city, forming a complex linguistic, unified across a shared territory.
History is permanent in the memory of a place, but urban narratives are incessantly changing. As architects and accomplices of the urban narratives, we have the responsibility of understanding collective memory and acknowledging its selective character. Only by deciding what to remember and what we can let go of, we can rewrite new spatial dialogues in accordance with modern narratives, but with respect towards the past. Therefore, the permanence of history, incontestably tied to the spaces it shaped, may enrich the urban space instead of being regarded as a burden upon it.
If Westminster is perceived through the history and events that formed it, the city can be seen as a collection of memories and perceptions. Its buildings embody values and symbols, its monuments remind of its past and its streets create meaningful promenades. In this sense, the city demonstrates a true inability to forget.
Therefore, Westminster, crowded by its collective memory, is in danger of becoming a place overwhelmed by its own monumentality.
Topographically, the thesis focuses on the Admiralty Citadel, a military fortress built in 7947 against the SW facade of the Old Admiralty Building. Described by Winston Churchill as a "vast monstrosity which weighs upon the Horse Guards Parade", the Citadel was hidden under a layer of Russian Vine, meant to blend it with the nearby St. James's Park and mask it from the eyes of the passers-by.
Key to understanding the design response is the peculiar discrepancy between the celebratory, ornamented architecture of Westminster, including the Citadel's neighbours (the Old Admiralty Building, the Admiralty Arch), and the cubist style of the massive fortress.
Through a selective process of filtering Westminster's memories (as well as the Citadel's memories), the proposal ascertains what should be remembered and what can be forgotten. The Citadel now becomes a library, a collection of memories, attitudes and perceptions, ironically resembling the city that rejected its presence and tried to cover its existence.
Lastly, by creating new urban dialogues within the city and between the Citadel and the now uncovered facade of the Old Admiralty Building, the proposal reinstates two monuments and recovers the city's memory.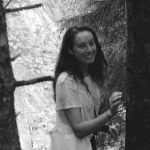 Nadina Bold
nadinabold@yahoo.com
https://issuu.com/nadinabold/docs/nadina_bold_portfolio_s