AN OPTIMIST'S GUIDE TO LIFE IN SWANSEA IN 2030
LOCATION
Civic Centre, Oystermouth Road, Castle, Swansea, Wales, SA1 3SN, United Kingdom
Imagining the adaptation, repurposing and rewilding of the existing Civic Centre in Swansea - addressing the challenge of how we deal with unwanted 20th century architecture.
This Thesis imagines the adaptation, repurposing and rewilding of the existing Civic Centre in Swansea, as part of an alternative approach to urban development which counteracts the environmental degradation that has accompanied economic and social progress over the last century.
It argues against the demolition of unwanted 20th century architecture in light of both the climate emergency and wasteful culture which considers renewal as the principle method of progression, and instead has sought a solution that could be achieved with the resources available - in Swansea's case, a large-scale brutalist building with a possible 50-100 year service life set in a magnificent landscape with rich biodiversity.
Using a concept seen in a special edition of National Geographic which explores an optimistic and pessimistic view of the world in 2070, dependent on the choices we make today - this thesis shows an optimistic picture of Swansea in 2030 if the Council chose to recognise their duty of stewardship to it's future generations and the planet, that undermines economic benefit and 'keeping up' being the primary justification for major redevelopment. It presents what genuine progress might look like in the 21st century, defined as much by what a Council chooses not to do, than what it does. This thesis depicts a resilient, globally responsible Swansea, adapted to a changing climate and the Capital of a wild Wales.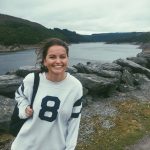 Rhiannon Thomas
I grew up in Cranleigh, Surrey, before my family moved to Swansea in 2017. I studied my Part 1 at Cardiff University, and then spent two years with Lilly Lewarne Architects in Cornwall, working in a team of 7. Following the completion of my Part 2, I am currently involved in an exciting project, the Collective Cymru Festival 2022 imagining Swansea in 2050, before hoping to relocate to Bristol and continue my architectural education there.