About the School
The Welsh School of Architecture was first established in 1920 and will celebrate its centenary in the academic year 2021-2022.
Over the years, it has grown to be recognised as a world-leading and agenda-setting school of architecture. Its staff and student communities encompass diverse national, cultural and professional backgrounds. Its strengths lie in the combination of a strong tradition of architectural education, an international reputation for research excellence and a long-standing engagement with questions of sustainability in architecture and urban development. Its physical home, the Bute Building in Cardiff's historic Civic Centre, provides a vibrant, collaborative environment for teaching, learning and research. Across its various degree programmes, it encourages students to confront complex situations and pressing issues of architecture and urbanism in today's world with intelligence, creativity, cultivating a sense of responsibility to future generations.
Award Nominees
RIBA Nominees
Bronze Medal
Cecelia Huang
Quiyang Tang
Silver Medal
Simran Lall
Lina Muhammad
Dissertation Medal
Georgina Myers
AJ Student Prize Nominees
| | |
| --- | --- |
| MArch | Anna Kryzanowska |
| BSc | Quiyang Tang |
| Sustainability | Josh Hayward |
Credits
Chair
Georgina Myers
Co-Chairs
Rory Flatt
Methila Ganasooriar
MacOurley James
Zsofi Veres
Staff Exhibition Coordinator
Dr Hiral Patel
Curation Team
Zsofi Veres
Eleni Alexandrou
Junal Barboza
Amanda CH
Rachel Livesey
Angeline Ng
Sangay Dorji Wangchuk
Methila Ganasooriar
Social Media Team
Eesha Fatima
Sandeep Kaur
Suvi Par
Georgina Myers
Harry Risk
Zsofi Veres
Rebeka Schreiter
Website
Succeed Digital
Steffan Williams
Georgina Myers
Events Team
Day 1 – Methila Ganasooriar
Day 2 – Rory Flatt
Day 3 – Georgina Myers
Day 4 – MacOurley James
Day 5 – Aidana Roberts
Cameron Jones, Elizabeth Hillier, Snigdha Khurana
Sponsorship Team
Rory Flatt
Georgina Myers
Rose Nicholson
Awards Design
Arno Decorte
Methila Ganasooriar
Angeline Ng
Yearbook Team
Julia Garnelo
Rory Flatt
Zsofi Veres
Logo Design
Julia Garnelo
3D Exhibition
Dan Stone
Georgina Myers
Harry Risk
Chayapa Udombunditkul
Special thanks to all students and their tutors for providing the show content.
Curation
Stepping into the 2020s, we have all developed an understanding of the urgency of, not only accepting and researching the importance of sustainability but on widening our perspectives and implementing innovative solutions.
We believe that in developing a sustainable future for our prospective generations, we need to find balance in…
…preserving our heritage and regenerating history
…designing with and for urban life and creating urban places and environments
…applying and embracing computational methods for designing and fabrication
…acting and responding to contemporary political issues
…responding to the climate change crisis
We believe in accepting the mistakes of the past and learning from them. We can adapt; regenerating our existing environments in response to current issues. We can move forward; finding innovative approaches to design our future societies.
You will be able to explore all students' works by these 5 themes. Alongside these, we developed our hashtags based on the uploaded students' works to show the wide variety of approaches taken to explore sustainability. You can uncover the history of a forgotten church, join the elderly needing to stay in care homes, explore the possibilities of retaining water. Or you can even step inside of a tower built from repurposed materials or find yourself in a campaign raising awareness of racial equity.
We, the students at the Welsh School of Architecture would like to invite you to explore our critical and creative findings and responses to our contemporary urgencies.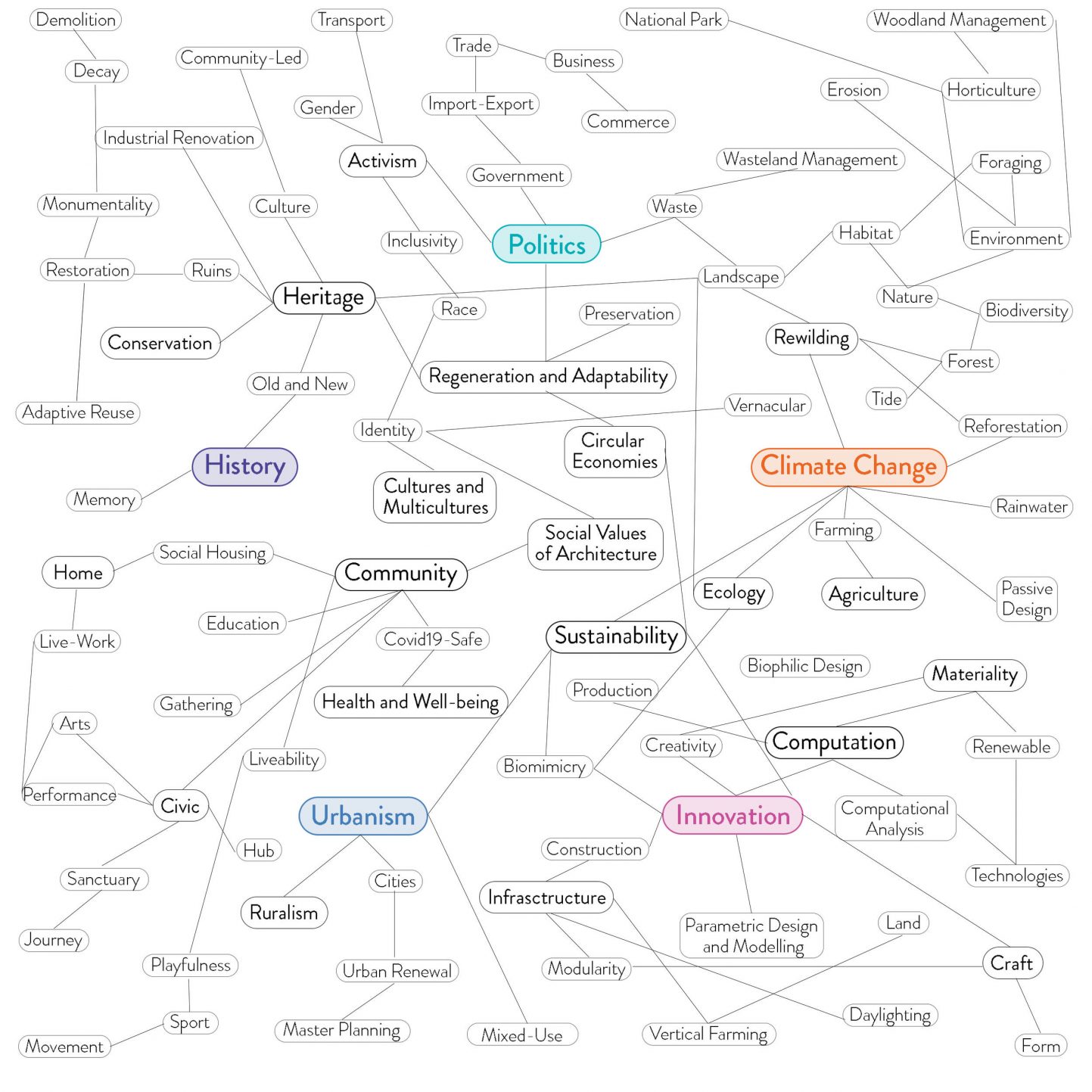 Exhibition Sponsors




Awards Sponsors