BREAKING THE GRID
LOCATION
Llandeilo, Carmarthenshire, Wales, SA19, United Kingdom
Reforestation of Llandeilo Woodlands
The National Trust has a major tree-planting campaign to plant 20 million trees over the next ten years. This woodland scheme seeks to achieve net-zero carbon emissions by 2030 to fight climate change. A part of the scheme is to give out free trees to schools and communities. The aim is to plant on farmland that the trust already own rather than country estates—forming the main reason for the site location, which lies on national trust land.
Breaking the Grid seeks to restore native woodlands and add non-native spruce trees to create a timber resource for the community of Llandeilo. Trees get planted in grids of 9, which slowly break down over the 4o years due to human processes such as felling and pruning. Within these gaps, buildings will emerge constructed from the Welsh grown timber produced on site. The function of buildings is to aid the logging of spruce trees and act as a form of education through timber construction.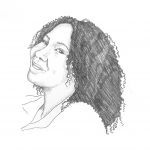 Bernadette Voce
(she/her)
Hi! My name is Bernie, and I have recently graduated with a BSc Architecture degree. Within my work, diagrams and sketches have been vital tools of communication. The originality that hand drawing gives enables a variety of eye-catching expressions of my ideas, which has developed a passion for sustainable architecture and its benefits to communities.
bernievoce@gmail.com