CASTING NEW HISTORIES
LOCATION
Victoria and Albert Museum, Royal Borough of Kensington and Chelsea, London, United Kingdom
Can the reciprocal exchange between replica and authenticity provoke the anamnesis of forgotten architectural monuments?
The Victoria and Albert Museum itself appears not static in one moment, but a complex layering of intervention, addition, and subtraction throughout time. Buildings may sit next to each other physically but are separated by decades of differing architectural vision.
The project speaks to Sigmund Freud's musings in Civilisation and its Discontents where be battles with the concept of overlapping histories and a fictional Rome where 'nothing that has once come into existence will have passed away and all the earlier phases of development exist alongside the latest one.'
The proposal seeks to actively engage with the building's past through means of casting and replica.  Historically these methodologies and processes sit at the core of the institution and represent a period of fanatical reproduction and the emergence of Cast Courts in the late 19th Century. The craze has since passed but it has left us with a series of casts that themselves have become monumental and have adopted their own metaphysical and temporal individuality. In some instances, the casts have stepped beyond their status into an ambiguous territory where they are both architecture and artefact. It is where these two intersect that the thesis aims to interrogate.
To do this a series of interventions are proposed across the site at varying scales, interfacing with both architecture and artefact. The form and design of the proposals comprise of reproduced components and moments from across the V&As lifespan to generate new meanings and address the contentious relationship between authenticity and replica.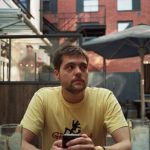 Henry Davis
(he/him)
I am a driven and confident young architect with a strong interest in working with existing and historically significant buildings , navigating the complex relationship between past and present and how it can lead to elegant and thoughtful architectural proposals that are both contextual and, environmentally and socially sustainable.
henry.davis11@btinternet.com