EARTH UP
AWARD
Computation and Innovation Award - NOMINEE
- Gianni Botsford Architects
LOCATION
Cardiff, Wales, CF, United Kingdom
An exploration of the potential use of raw earth as a building material through design adaptation to local climatic conditions.
Production of waste within a linear economy has a critical impact upon the environment. The common approach of exhausting the planet of its resources, further discarding them as soon as they are obsolete is degrading the planet. It is, therefore, important to reduce the embodied energy and CO2 involved in extracting and processing construction materials, as it has too much of an environmental impact.
The goal of this thesis is to explore the potential of an ideal earthen architecture emerging from the ground on which it is meant to stand. There are two primary conditions, deriving from this. The first is to retain all materials involved in the construction of the architectural piece in a state that enables them to be returned back to their original environment if/when the form of architecture is no longer needed. The second is achieving this in a cold, wet and windy climate, which is the case of the City of Cardiff. As materials in their raw state are considered more at risk from erosion and deterioration due to harsh weather, the objective is to develop a design process that allows for climate-based architectural adaptation.  Through these explorations, the thesis aims to bring focus on the potential for recognition of a developed process enabling the adaptation of earthen buildings to their environmental context, making it possible for a standardization within the construction industry in the UK.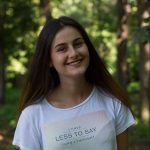 Diana Belomorska
(she/her)
d.belomorska@gmail.com
Other work by Diana Belomorska