GROVE GARDEN DWELLINGS
AWARD
Computation and Innovation Award - NOMINEE
- Gianni Botsford Architects
LOCATION
Barking, Greater London, England, IG11 8NL, United Kingdom
Optimising Vertical Living for Wellbeing
High-rise buildings are associated with social isolation, a lack of community, as well as a lack of connection with nature. As such, vertical living is thought to be linked with issues of wellbeing and mental health which are becoming ever more prevalent in today's society. My thesis investigated how design can address the wellbeing and social issues inherent in dense vertical living by promoting greater social connectivity and connection with nature. This was explored via generative principles of phyllotaxis (the distribution of leaves to prevent self-shading) as a means of creating communal garden terraces which would promote social connectivity between neighbours, greater connection with nature and break down the scale of the building. The final form was developed using multi-objective optimisation tools to maximise the solar exposure of all terraces whilst optimising the surface-area-to-volume ratio.
The building is divided into three towers which together form an atrium ('The Garden Grove'), connecting all residents within a central space. The project follows principles of co-housing whereby each residential unit is independent whilst also benefiting from shared access to communal areas and facilities. In addition to the shared garden terraces, the ground floor houses a communal gym, social hub ('common house') and restaurant which can all be accessed via the central courtyard. A large communal hall is also located beneath the courtyard which can host a range of events and activities, benefiting the wider community.
I investigated 3D printed concrete as a means of constructing a unitised façade system to allow the creation of such unusual and expressive forms whilst also reducing wasted material during construction.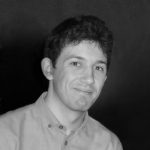 Lawrence Lynch
(he/him)
Having previously completed my BSc in Architectural Studies at the WSA, I spent a little over three years working for DaeWha Kang Design, a London based architecture studio which specialises in wellbeing and human oriented design. My time in practice helped to foster my interest in computational design as well as how the poetics of light and form can be used to promote emotional wellbeing. Returning to the WSA to complete my MArch has allowed me to continue exploring these interests. As such, my dissertation focussed on the effect of biophilic aesthetics on emotional wellbeing and my design thesis explores how greater social connection and connection with nature can promote wellbeing within high-rise buildings.
LynchLJH@gmail.com