REINHABITING A RUIN
AWARD
History and Heritage Award - NOMINEE
- Kate Darby
LOCATION
Bishop Llandaff, Cardiff, Wales, CF, United Kingdom
Performing Arts Centre and Urban Sustainability Hub
This project remains close to the strategies and ideas generated in the group proposal, particularly developing the focus on expressing the programmes through the architecture.
Tectonic approach developed from the idea of a light touch approach representing the sustainability programme, and an integrated one for the school. A natural material palette was selected to work with the breathability of the existing, and from this both an integrated and a light touch approach were developed and applied throughout site, with stone and rammed earth becoming extensions to the ruin, and timber taking a much more delicate approach to the existing. It is through these that the programmes are expressed in unity rather than contrasting as was initially proposed.
Unexpected moments were inspired by the theatrical element of the programme, and the proposition of the site as a hidden gem within the walls of the Palace, which are only hinted at from the outside. These moments manifested in many ways, including moments of lighting or material change, but most distinctly in the creation of a hidden roof space on top of the Performing Arts School which is not visible from the courtyard, or inside the building.
Sustainability was a key driver for the original brief and the additional programme. Environmental sustainability has been considered largely in the material choices and the inclusion of lots of planting and creation of habitats that would attract bees especially. But ultimately it is about the fact that it creates a proposal of increased value on the site socially and economically for the client and the community, as well as the environment.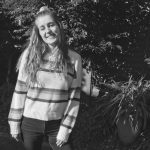 Rose Nicholson
My ethos regarding architectural design is creating spaces that improve the value of spaces for people, the environment, and economy of what was, for now and the future, in other words, sustainable design. My personal approach to adding value in these ways is through integrating nature and appropriate tectonic approaches into the design, whilst having a sound understanding of context. I particularly enjoy designing through making, as seen in my explorations in making models, and other crafts.
rose.nicholson@hotmail.co.uk
https://rosenicholson.myportfolio.com