RELIQUARY FOR THE FORGOTTEN
AWARD
History and Heritage Award - WINNER
- Kate Darby
LOCATION
Saint Margaret's Church, Westminster, London, Greater London, England, SW1P 3JX, United Kingdom
Can architecture question our collective memory to retell a forgotten story from the past through the alteration of meanings attached to the existing structures?
The project focuses on the duality of our past, composed of forged memories and the fading truth. It looks at the site of Westminster Abbey, a 13th-century relic of medieval England, glorified by the Gothic revival to a monument of national pride, and St Margaret's Church, a 12th-century structure hiding in the shadows, collecting what Westminster Abbey did not want to collect. The Reliquary changes the existing connections between the two monuments to reintroduce them back to the City of Westminster as living urban artefacts, carrying important lessons to the current and future society.
The Reliquary for the Forgotten is an extension to St Margaret's Church that uncovers and retells the history hidden inside of it. The structure celebrates the unknown and creates new meanings through the alteration of our perception of the existing monuments. At the same time, it critiques the current forms of historical 'preservation' that are depriving historical buildings of their natural evolution. 
The proposal utilises the idea of the transmutation of collective memories associated with different structures. This way the proposal generates new meanings through the recollection of strategic architectural elements from the past in connection with relics displayed inside. The proposal's main function is to protect the relics but at the same time tell their story. Therefore, the journey through the building is a journey through British history that has been hidden and altered throughout centuries. This progression is achieved through the change in masonry techniques and the use of vertical planes to create a dialogue between the viewer and the object.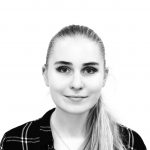 Anna Krzyzanowska
(she/her)
A recent MArch graduate with a versatile design, organization and communication skills. Professional education and experience gained in multi-cultural organizations during a number of professional training opportunities and at the top universities in Europe.
aniakrzyzanowska96@gmail.com