THE CARDIFF BAY BARRAGE TIDAL POOLS
AWARD
Computation and Innovation Award - NOMINEE
- Gianni Botsford Architects
LOCATION
Cardiff Barrage, Butetown, Cardiff, Wales, CF, United Kingdom
Rewilding Cardiff Bay
The project focuses on the artificially created barrage in Cardiff Bay which is the separation point between the tidal river Severn estuary and the confluence of the rivers Taff and Ely. Wanting to hide the 'unsightly' existing mudflats, the construction of the barrage in 1999 impounded the two rivers, destroyed the salt marsh habitats and created an artificial freshwater lake. The lake is heavily reliant on human upkeep - 9 sondes monitor in real time salinity, pH balance, temperature, oxygen, ionic activity and turbidity. All of those require constant fine-tuning by humans to keep the ecosystem alive. All this is necessary because the ecosystem of the new lake is permanently severed from that of the estuary.
The thesis explores the scenario where the barrage is partially compromised and the two ecosystems are connected again. This exploration reveals that connected ecosystems are much more resilient and a connection to the wider context is hugely important.
The proposal has two primary aims. The first is to recover the diminished ecosystem of the artificial freshwater lake in the Bay and thus remove the human intervention, energy and cost required to keep the lake alive. This is resolved by creating six minimal incisions in the barrage which let some water out and expose mudflats again. The incisions also let ocean water in, every 6 hours with the high tide, creating a new relationship between the two systems.
The second aim, the social one, is to make the public aware of a different type of aesthetics, one driven by biodiversity not visual appeal. This is accomplished by proposing a series of ramps and stairs within two of the cuts for easier access to the exposed mudflats for people to wander, explore and interact with the organisms that the mudflats are home to.  The way the cuts are landscaped allows for water to be retained as the tide rises. These tidal pools will make people aware of the variability and the richness of a space reverted to its natural cyclical rhythm .  The space is never the same as the tide comes in every six hours and subtly changes height range over 28 days. The mudflats are revealed for their richness and importance which sets up a new definition of beauty, not the superficial visual one.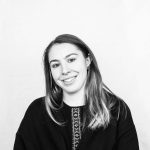 Nadejda B. Tabakova
RIBA Part 2, WSA Graduate. The two underlying beliefs I use to guide me when designing are a positive and determined look towards the future, and an emphasis on grassroots communities organising to drive change. I believe architecture endows ordinary people with skills to tackle world problems on a local scale. Having been a part of both a professional team in practice as well as smaller community projects, I see the architect's role as that of an enabler - working with people rather than for them. I aspire my design work to foster active citizenship and help people build, rebuild and regenerate their homes, streets, communities, and cities.
nbtabakova@gmail.com