THE NORTH BEACON TOWER
LOCATION
Grangetown, Cardiff, Wales, CF, United Kingdom
A beacon for regeneration and sustainability within the wider Grangetown Gasworks Circular Economy Masterplan.
The North Beacon Tower is a mixed-use modular construction tower, at the north of the circular economy masterplan for the old gasworks site. The Residential Tower is a building that entends to encapsulate the ethos of the circular economy masterplan for the wider brownfield site. The tower is based on the vertical forest concept to help the scheme become a city-wide beacon for sustainability and regeneration.
The lower floors of the building are mixed-use zoning which uses the Cooperative Community model which encourages a more sustainable living environment with more community engagement. The North of the site boundary also creates a new circular mobility hub, re-routing a local bus service and integrates a new cycle lane through the site.
The tower introduces local modular volumes to reduce construction costs and time. This technique is sustainable and would be built on-site, using an old warehouse marked for demolition. This increasing circularity of the scheme. The room typologies aim to combat a clear local demand for smaller apartments, while also mixing larger typologies to increase the mixing of different groups.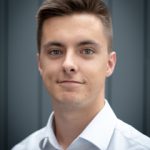 Morgan Rhys Taylor
(he/him)
3rd Year Student at the WSA. Currently working at Rio Architects as an Architectural Assistant.
morganrhys.architecture@outlook.com
https://www.youtube.com/channel/UC61yHLlML1HXpXH2OSzW2YQ