TREFOREST CIVIC CENTRE
LOCATION
Old Tin Works Road, Treforest, Wales
Creation of a civic centre on the outskirts of Treforest
Treforest is a place with a strong sense of community, shown through the highly successful allotments that are situated there, but also contains division of the demographics with the ever growing number of university students and the locals who inhabit the town. The site of the Old Tinplate works gives the opportunity to create a space for the entire community to use and enrich the lives of the users by giving them a space which can not be present in the clustered town. The site also allows the history of the town to be appreciated and to understand how and where the town has grown from. The aim of the project is to create this space for the community which takes the intimidating ruin that stands on the site and both be sympathetic to the history of what was but create a space that is comfortable to inhabit for a variety of users.
The centre will incorporate a multi-use hall which can accommodate community functions, shows and activities; a café that caters for anyone and everyone who uses that site whether that be as part of catering for a function or a visitor to the centre; a skills academy that caters to the community by allowing the borrowing of tools, the space to create with facilities not accessible at home and a place to learn both alone and in classes run in the centre.
Overall the project intends to bring the people of the surrounding towns together in a place which is comfortable to inhabit while also opening up opportunities that they wouldn't previously have had. All of this is then situated within a piece of major history for the town, bringing the ruin, that was once a hive of activity, back to life.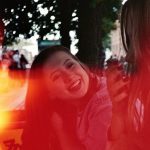 Emily Aitchison
(she/her)
I have completed my 3rd year of Architecture at the Welsh school of Architecture with a project that regenerates a site that has fallen into ruin to create a space for the community. Within this project I have incorporated my own personal architectural interests of personal design, comfortable inhabitation of space and the combination of old and new structures.
emily@aitchison.org.uk